** December 2012 Inventory update: All geocoins have now been sold, and are no longer available for sale here. **
Here we have it folks, the production Saskatchewan 2011 Geocoin!
Regina Geocachers is proud to present this geocoin designed by Nezgar & Vana with input from local cachers, and produced by Landsharkz to celebrate the 10th anniversary of this great activity in our province.  The coin is quite something to see in person.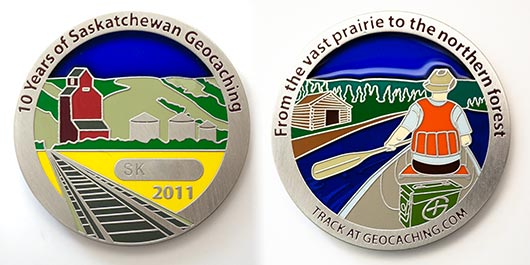 The coin celebrates this year as the 10 year anniversary of Geocaching in Saskatchewan. The art depicts a prairie valley scene with grain elevator and tracks on one side, and a canoeist on one of the over 100,000 lakes in the northern forests of the province on their way to place a new geocache.
The coin is 'Antique' nickel die-cast, 3mm thick, 42mm in diameter. The top of each side features a blue translucent sky. The top of the elevator, and the hat of the canoeist line up on the skylines of the opposing sides.
350 coins were minted, and are now available for purchase in person from Nezgar & Vana, or online using the links below using PayPal..
The coins are $12 each.
Please make sure to use the correct link for the region you are in for the correct shipping calculation. If it is incorrect, we will have to refund the order and you'll have to place it again.
Shipping costs via Canada Post:

Local Pickup in Regina - free
Canada - $3, plus 50₵ for each additional coin
US - $3.50, plus $1.00 for each additional coin
International - $6, plus $1.50 for each additional coin
Ordering Links:
[Links removed as all coins have now been sold]